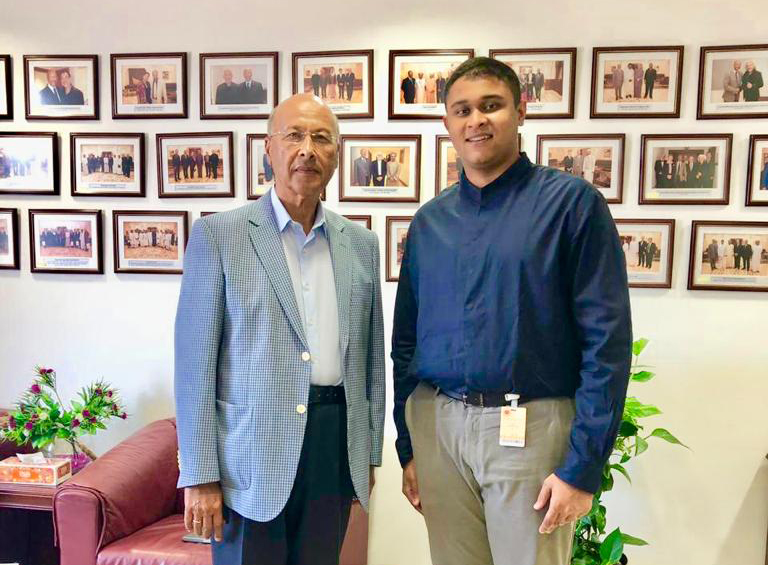 A student will publish a research thesis on traditional Omani music
Santrupth GR Vedanthi, 17, a 12th grade student at ABA School Muscat and a musician known for his charitable activities, will publish his research paper on Omani music.
Speaking about his initiatives, Santrupth said, "Music was the right choice for me as I had the opportunity to hear traditional Omani music from an early age. Music plays an important role in Oman. Traditional music marks all stages of an Omani's life, including birth, marriage and death. Unlike many Arab countries, most Omanis participate in music, including both men and women. Traditional Omani music involves audiences of all age groups.
He said that in Omani music, there are different types of songs for childbirth, marriage, hunting, political activities, music to ward off evil spirits and also to pay homage to good spirits.
"They are associated with a particular dance. In African and Omani music, some songs are performed by professional musicians of royal courts. All these facts inspired me to do my in-depth essay on Omani music with the help of my teachers. I also had a great opportunity to meet Professor Issam El Malla. Advisor to the board of directors of ROHM ", he added.
The young musician was first inspired to champion the cause of cancer when he saw his classmate battling the dreaded disease and launched a crowdfunding campaign for the Oman Cancer Association. All the money he made from the sale of his debut album 'Amogha Milana' was donated to the cause of cancer awareness in Muscat and Manonandana, a school for the mentally handicapped in Bengaluru.
Santruth also donated the profits from his performance to the Bangalore Hospice Trust – Karunashraya, which provides free professional palliative care to patients with advanced cancer who are incurable. He was also part of the "Trinity Live in Concert" held in Muscat to raise awareness and fundraise for the Early Intervention Association for Children with Disabilities.
Santruth recently donated 50 solar lanterns to poor students at a school in Gowdgere, a village on the outskirts of Bengaluru in Karnataka, India. He raised money for solar lanterns from the sales of his albums and funds from the many concerts he had given.
Last year, Santruth donated 50 percent of his income from concerts and sales of his album "Palasampada" to help set up a drinking water facility in Gowdgere. Nearly 400 families have benefited from the drinking water plant. Before the project was set up, he provided 25 liter water bottles to each of the families in the village to solve the immediate problem of water shortage.
Santruth recently received the 'Youth Award' for his contribution to charity through his work in the field of music.
Indramani Pandey, former Indian Ambassador to Oman, presented the award at an event organized in association with the Oman Hockey Association.
He was honored with the award for being a young person with a vision and a passion to serve society. He has been recognized for having enriched the community through music and charitable work.
Musically, Santruth was selected to attend a week-long Stanford Jazz Workshop at Stanford. While Santruth completed a five-week scholarship program at the US-based Berklee College of Music (BCM) at age 13, he became the youngest student to complete his eighth year of drums at Trinity College of Music. from London. Santrupth, who plays five instruments, played drums during the concert of famous Indian composer AR Rahman 'Jai Ho Muscat'. He also shared the stage and was mentored by Sivamani, Gino Banks, Bikram Ghosh, Dilip Doshi and Arunkumar, prominent names in the percussion world. The young man, deeply involved in multiple causes, wants to carve out a place for himself in the world of music, academics and continue to make a world of good.